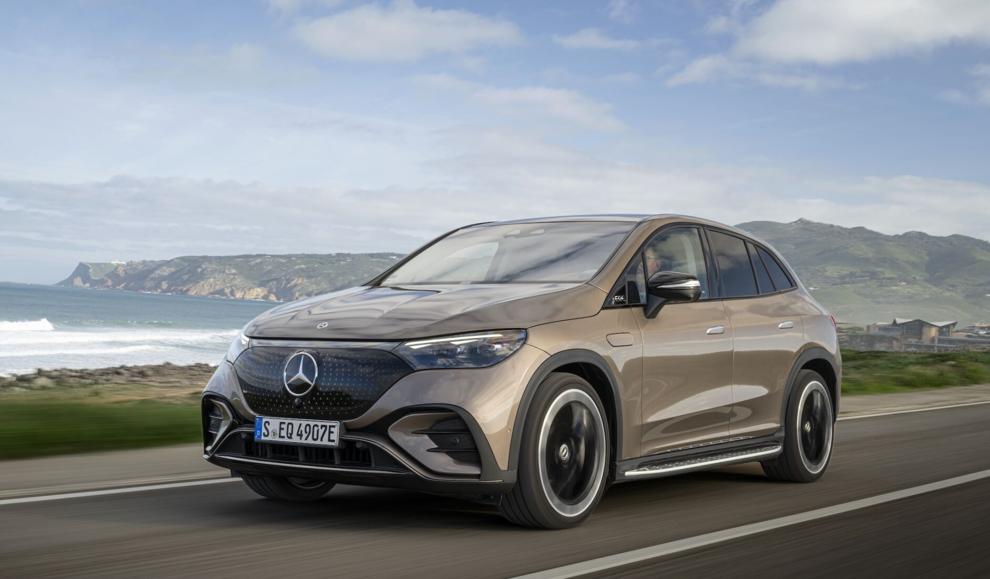 Ladies and gentlemen welcome to Portugal for the international media drive of the all-new 2023 Mercedes-Benz EQE SUV which expands the fully-electric Mercedes-EQ brand by making it the second EV SUV in the portfolio. The German automaker has been on a role since introducing the EQS sedan a few years ago and now hosts a bevy of sustainable models to help reach its carbon-free goal while providing conscious owners with a variety of styles and sizes to choose from.
Based on the EQE sedan in positioning, the midsize SUV features a 90.6 kWh lithium-ion battery that delivers a driving range of 279 miles for the RWD EQE. However, if you step up to the AWD 4MATIC then range decreases a bit to 269 miles. Our initial charge was well within reach of the destination from Lisbon, Portugal's capital and largest city. The vibe along the Atlantic Coast was incredibly refreshing en route to Ericeira, a civil parish and seaside community on the Western Coast considered the surfing capital of Europe. The lifestyle of fellow citizens seemed perfect for eco-friendly vehicle ownership as pastel-hued buildings from the old town express vibrant energy, the hilly streets offer daily exercise, and the fresh foods provide healthy sustenance. Moreover, Portugal is a beautiful and hospitable country that set a vitalizing tone for our electric test drive.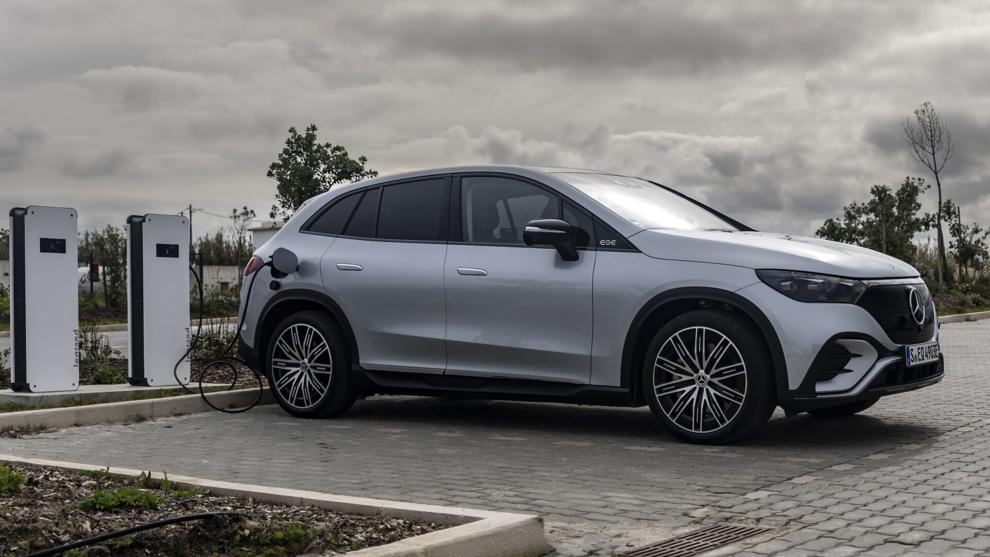 The EQE SUV is the 4th electric model built on Mercedes-EQ's new all-electric platform. The other three are the EQS and EQE sedans, as well as the EQS SUV. The EQB, which Automotive Rhythms evaluated last month, rides on a different platform. Three trims will include the $77,900 EQE 350+ SUV (288 hp / 417 lb-ft of torque), the $77,900 EQE 350 4MATIC SUV (288 hp / 564 lb-ft of torque), and the $89,500 EQE 500 4MATIC SUV (402 hp / 633 lb-ft of torque). Each excludes the $1,150 destination and delivery fee.
Riding on 19" wheels, our vehicle was super smooth, quiet as a pin drop, and quick. Not ultra-fast in acceleration, but the EQE SUV is ideally suited for family lifestyle tasks. And though it is smaller than the EQS SUV, inside the evolutionary cabin my 6'7" drive partner and I were extremely comfortable. Also, a new heat pump supplies advanced thermal capabilities by utilizing wasted battery heat to warm the cabin and help increase driving range.
Like all EQ models, the interior is simultaneously divine and technological. Mercedes-EQ offers features and capabilities that you never knew you required. It begins with the highly vivid MBUX multimedia system with Navigation, an incredibly detailed Head-up Display, a 12.8" Center OLED Touchscreen, and a 12.3" Instrument Cluster. The only element I am not a fan of is the Augmented Video for Navigation which shows you the actual imagery of your surroundings. For vegans like myself, the MB-Tex upholstery is leather-free including the seats and steering wheel. For audiophiles, an extraordinary Burmester 3D Sound system with Dolby Atmos and a 360-degree sound experience takes the audio experience to a planetary level.
Further EQE SUV  enhancements include 64-color ambient lighting, a panoramic sunroof, LED headlamps with Active Highbeam Assist, a fingerprint sensor for biometric authentication, massaging seats, 4-Zone Climate Control and Active Fragrance, and a 100w USB-C package. To stylize your EQE SUV on another level, upgrade to the optional AMG Line and receive unique 21" AMG rims, a sporty rear diffuser, a sportier front bumper, a flat bottom AMG steering wheel, AMG pedals and floor mats, and illuminated door sills.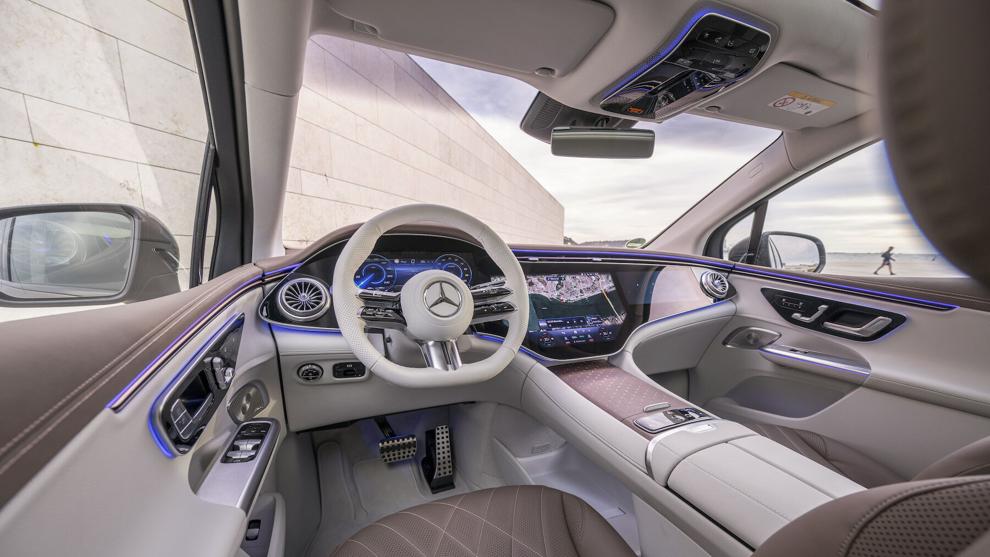 Mercedes-EQ has a partnership with ChargePoint with a recent announcement of a new charging network available to all EV drivers, not just Mercedes owners. Completion is expected by 2027 and will offer 400 hubs with more than 2,500 Level 3 chargers. When completed, premium charging hubs will be located in highway proximities and metropolitan areas. Expect four to 12 chargers at standard locations and up to 30 at busy junctions. Moreover, EV owners will complete 80% of their charging at home using a 240V Level 2 charger. Therefore, a home installation setup like the ChargePoint Home Flex is best.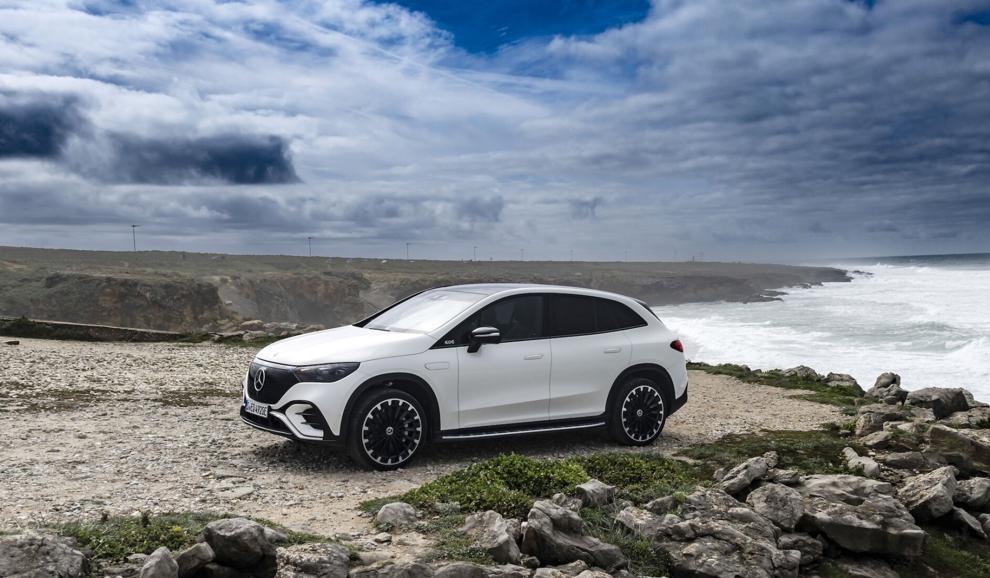 In typical German fashion, the EQE SUV will compete directly with other German compatriots such as the BMW iX SUV and Audi e-tron SUV. Built in Alabama and available this spring, the new Mercedes-EQ continues to advance the narrative of a carbon-free future.