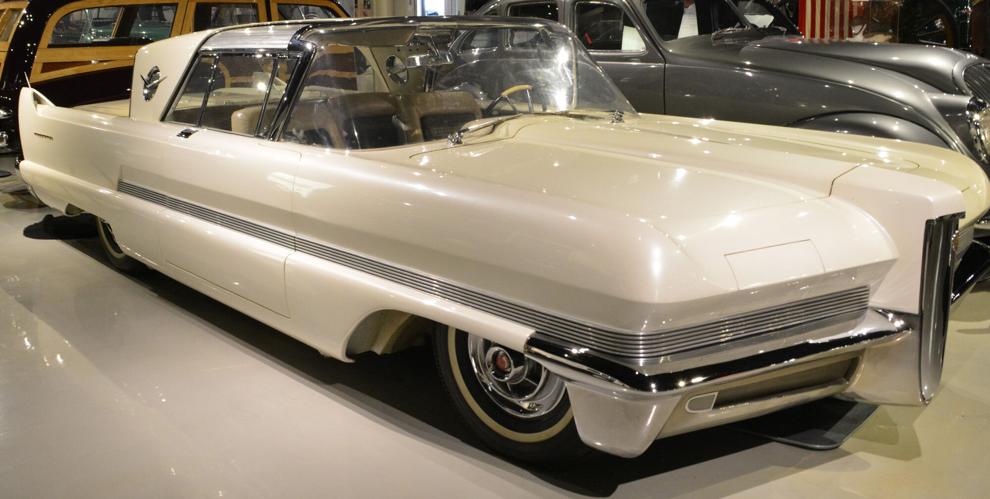 Dayton, Ohio is actually a hub for automotive enthusiasts, believe it or not. First Charles Kettering, who was head of research at General Motors from 1920 to 1947 and inventor of the electric starter grew up in Dayton. 
I have previously documented the marvelous Halderman Barn Museum, a Mecca for Mustang enthusiasts and an homage to the designer of the Ford Mustang, Gale Halderman. (Learn more about Gale and his legacy here.)
Dayton is also home to America's Packard Museum. What a great name for a car museum! For Packard enthusiasts, this museum is a must-see. And the weekend of April 22-23, America's Packard Museum will celebrate their 30th Anniversary with some special events and some special concept cars.
The 1953 Packard Pan-American and the 1956 Packard Predictor Concept Cars will be unveiled at the opening cocktail reception on Friday night, April 22nd and will be on display throughout the weekend. 
The Museum, located at 420 S. Ludlow St., in downtown Dayton, is housed in the original 1917 Packard Dealership building in Dayton and is the only restored Packard dealership operating as a Museum.
Museum Curator Rob Signom said "This event is an opportunity for everyone - Packard lovers, car collectors of all marques and community members alike - to enjoy a unique and fun experience while supporting this Museum."
During Friday evening's cocktail reception and unveiling, visitors can sip and sample hors d'oeuvres as they stroll among the Museum's other elegant Packards on display.  The Spring Fling continues on Saturday morning with coffee and pastries and a "Behind the Scenes" guided tour of the Museum. Two "how to" sessions will focus on displaying cars for judging, followed by a Max Merritt Packard Parts Sale.
Saturday afternoon features a special off-premises tour of The Rick Grant Automotive Collection at Euro Classics in Moraine. This is a rare opportunity to view an incredible collection of more than 50 award-winning vehicles, from classics to racing and sports cars.
"The festivities conclude Saturday night with a Gala Dinner and program.
 Signom continued, "We are honored to have Mark A. Vargas as our special guest speaker.  Mark is an automotive historian and scholar and recently retired Chief Operating Officer of the prestigious Revs Institute, which houses the Collier Collection, in Naples Florida. Mark's focus for the evening is The Road Ahead for Automotive Museums.
Music by the Kim Kelly orchestra and a silent auction will also be featured. Dress is business casual for the event.
To register for any of the 30th Anniversary events or for tickets, visit the Museum website americaspackardmuseum.org  or call the Museum at 937 226 1710.
Is there an automotive-related museum or event you want highlighted here, leave a comment or email jimmy@theweekenddrive.com with the details.