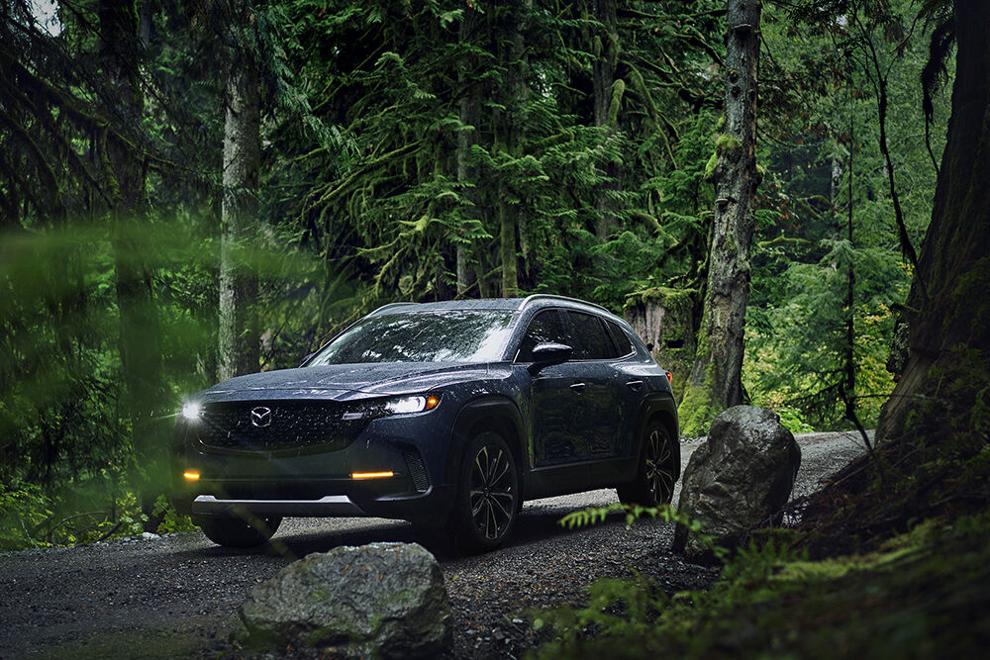 Mazda's newest SUV looks to challenge off-road rivals
Mazda is a brand that's always done their own thing. Through the years they've made steady, consistent vehicles that are usually full of driving personality. See our recent thoughts on the oh-so-fun Mazda Miata and it's easy to see why hearing about a turbo addition to the brand new Mazda CX-50 might get us a little excited.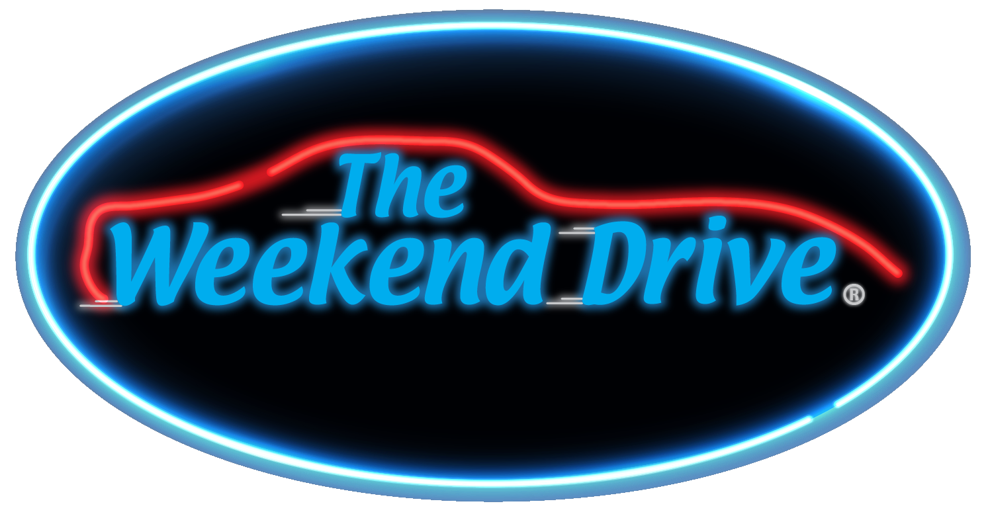 The CX-50 which is a completely new model for Mazda leads to some confusion as to where it fits in the Mazda SUV/crossover lineup and will it directly compete and/or steal sales from their best-selling CX-5. The answer to that, according to Mazda is no. Think of the CX-50 as a more rugged, more capable, more adventurous version of the CX-5.
Mazda is aiming the CX-50 at competitors like Subaru, rather than Honda or Toyota. It makes sense as the "overlanding" craze has gained momentum over the last couple of years.
The Weekend Drive automotive editor Jimmy Dinsmore and TWD publisher Vince Bodiford spent time behind the turbo version of the CX-50 and shared their thoughts.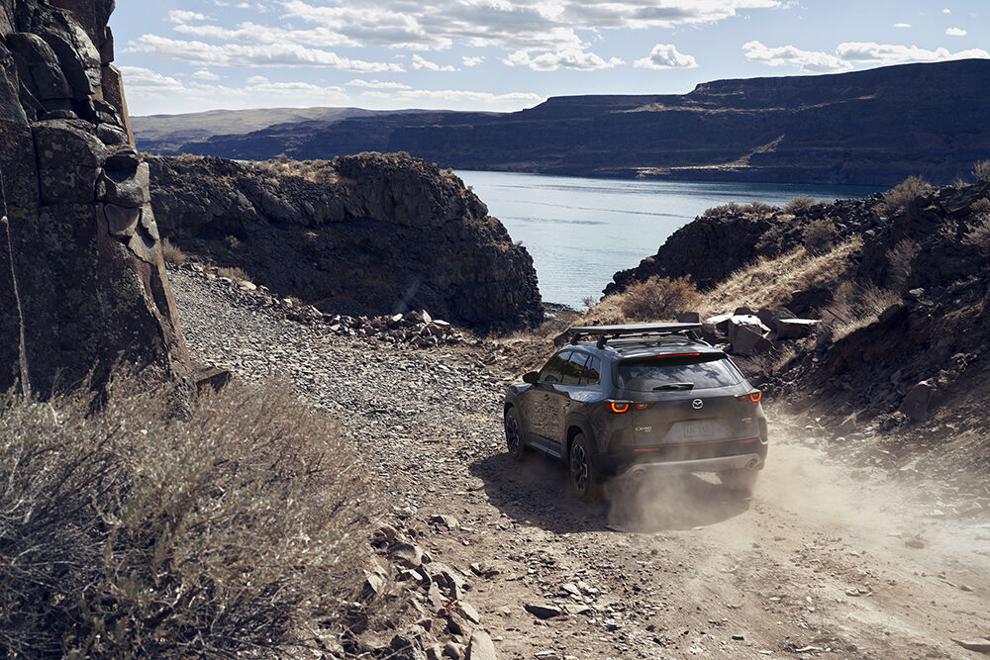 Jimmy: The base engine is a 2.5-liter four-cylinder with 187 horsepower. Ho hum is what I say to those output numbers. I saw how the non-turbo version of the smaller CX-30 lacked any personality and would think that without the turbo the CX-50 would be disappointing. Vince, do you think the turbo version evokes some of that old "zoom zoom" emotions?
Vince: With the turbo, the CX-50 cranks out 256 horsepower and 320 pound-feet of torque. The turbo makes all the difference it would appear. A six-speed automatic transmission is available in both versions of the engine.
Jimmy: I was frankly disappointed that there wasn't a new transmission for this turbo engine. Although surprisingly there was very little turbo lag with the six-speed, but it just seems like most new vehicles have anywhere from 8-10 gears and six just seems a little behind the times. There is a drop in fuel economy for the turbo version, but it's still totally worth for the stronger output and capable performance. As a vehicle with a playful rugged personality, you will feel the driving difference in the suspension which is stiffer than that of the CX-5. Vince, do you think Mazda is onto something with this more rugged, off-road capable CX-50? Is it a Subaru challenger?
Vince: I didn't take off the road, but it certainly felt more capable than what I'm used to from Mazda. It feels more sporty than rugged and it may still struggle setting itself apart more from the CX-5.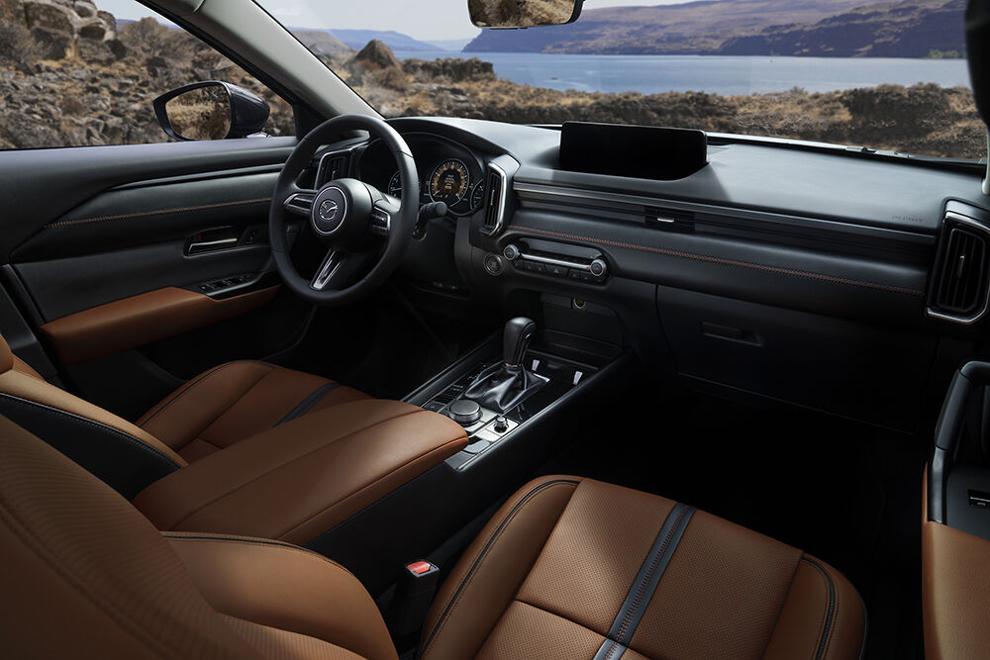 Jimmy: Those were thoughts too. The CX-5 is solid and steady but somewhat forgettable and I didn't find the CX-50 to be that much more memorable. Inside, the materials seem like an upgrade over other Mazda SUVs with the only real sticking point being the dial-based infotainment system. Not trying to talk out of both sides of my mouth as I love when touchscreens do incorporate some knobs too, but the infotainment system in the Mazda is far too clunky. Vince, you have a different perspective on this than I do, am I being too hard on Mazda?
Vince: The 8.8-inch touchscreen system does have wireless smartphone connectivity which is a plus. There are also two USB ports and a wireless charging pad. Plus a 12-speaker sound system was good enough for me. And I found the combination of the touch commands and the knob to require just a small learning curve.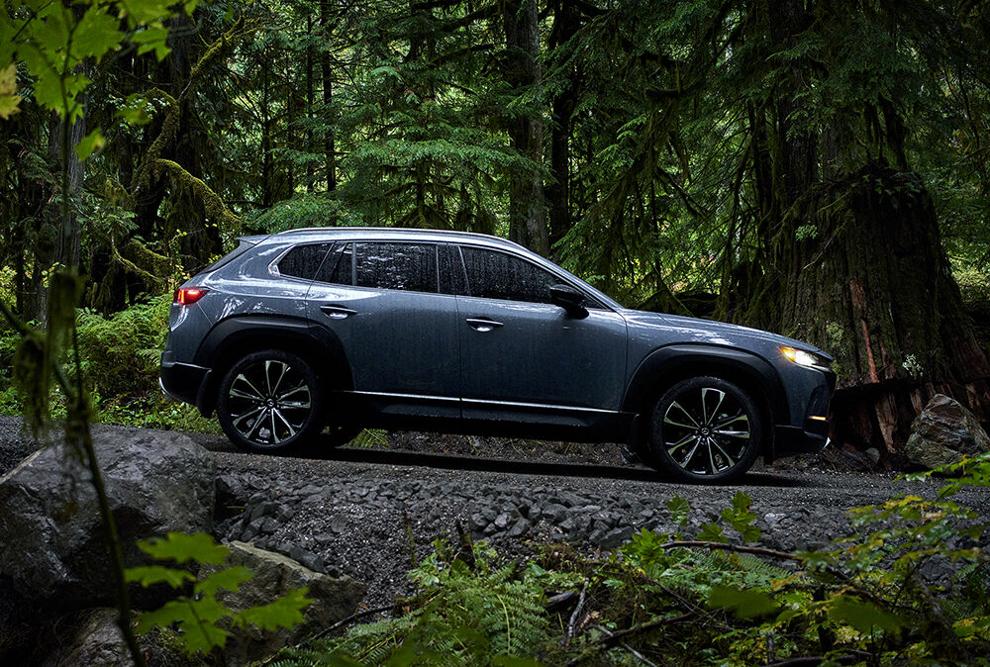 2023 Mazda CX-50 overview: Base price is $41,500 for our tester with an EPA rating of 23 mpg/city and 29 mpg/highway with all-wheel drive. And when it's time to choose between the two engines, we highly suggest to go with the turbo!
Mazda has some work cut out in marketing to better define the CX-50. Look for commercials showing it off the beaten path, perhaps traversing some rugged roads. Mazda is coming for Subaru with this more capable, more rugged ute.