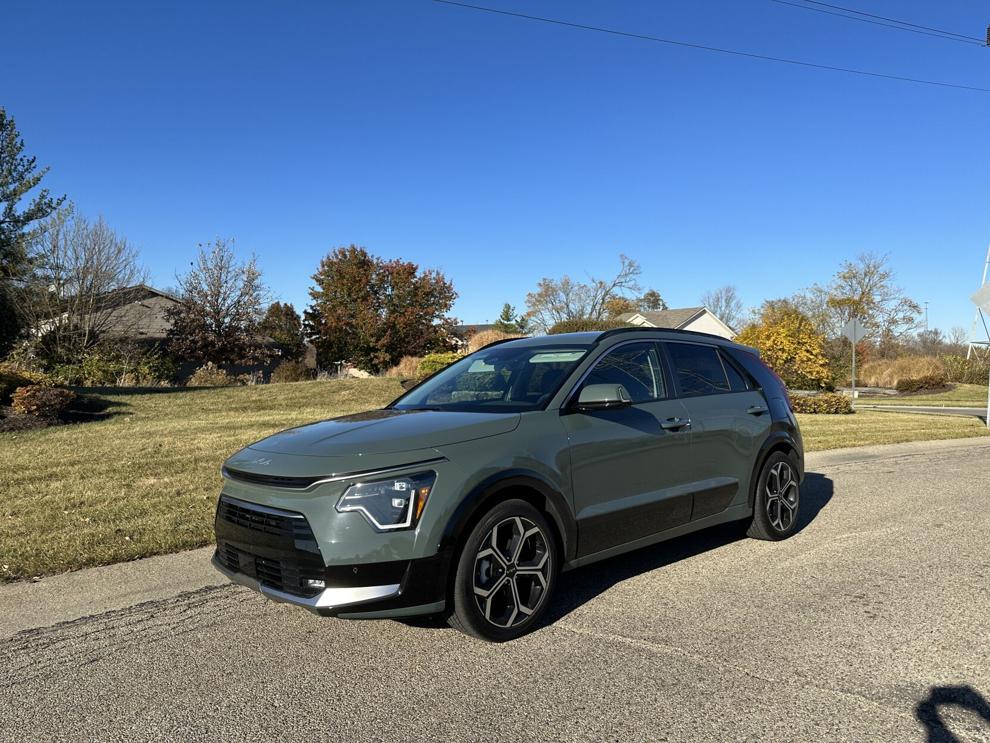 It's my job to be objective and critical of these vehicles I'm privileged to drive. And while some of you may think I take it too easy on vehicles the fact is it's hard to be critical of brand new vehicles. But yet still I try and hopefully you find me objective in my thoughts as I try to represent the average consumer.
Well enough selling me and my column, let's get down to the task at hand. This week's tester has a lot to like about it and a couple areas that could be better. How's that being fair and balanced?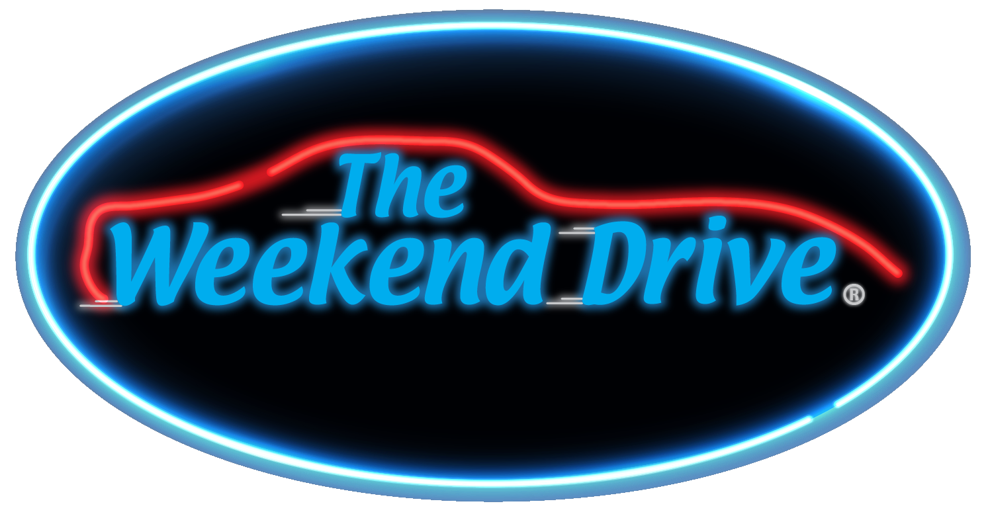 The 2023 Kia Niro is a small hybrid crossover. That would normally be repellent to me as it means it's slow and poky. And in this instance, poky is a fair way to describe this crossover. However, the looks, quality interior and tremendous fuel economy help me overlook some of the other flaws of this vehicle.
Is the Niro perfect? No way. But is well suited as an entry level, fuel efficient, daily driver? Absolutely. So under the guise of judging a vehicle for what it is, rather than what it isn't let's conclude that the Niro does exactly what it intends to do for today's consumer.
On looks, the fully redesigned Niro (pronounced Knee-Ro) is one of the best-looking small crossovers around. This segment is full of cutesy, bubbly vehicles and my tester had a beautiful look from the front to the back. The Cityscape Green exterior had complimentary black gloss accents on the grille, side panel and back rear quarter panel. This eye-catching styling ties the look together succinctly giving it a modern finish. The mouthy opening below the front hood is bold, but then the squinty styling just above that area with the new modern Kia logo atop balances out the front end and adds distinction.
LED projector headlamps and 18-inch alloy wheels are part of the SX Touring package and add even more pizzazz to the already handsome Niro. On looks alone, the Niro is one of my favorite redesigns of this model year.
From a performance standpoint, the horsepower and torque are underwhelming. And if you're looking for exhilaration, you won't find it here. However, 1.6-liter, four-cylinder hybrid engine churns out a mere 139 horsepower and 195 pound-feet of torque. These pedestrian numbers are easier to overlook when you see the fuel economy rating. The EPA rating for the 2023 Kia Niro is 53 mpg/city and 45 mpg/highway.
Once again, this falls under Kia intending the Niro to be a fuel sipper, which it is, rather than a speed demon, which it isn't. The six-speed automatic transmission was a little disappointing, but still better than a CVT which regularly gets paired with hybrids. But for a new generation, I was hoping for a few more gears rather than a dated six-speed transmission.
Inside, the Niro upholds Kia's recent attention on quality interiors. Despite the lower price point, the Niro doesn't feel cheap with higher quality materials found inside. Plus there are heated and cooled front seats and a heated steering wheel. For a vehicle in this segment with that price tag, that is not common, and yet it's standard for the Niro SX Touring.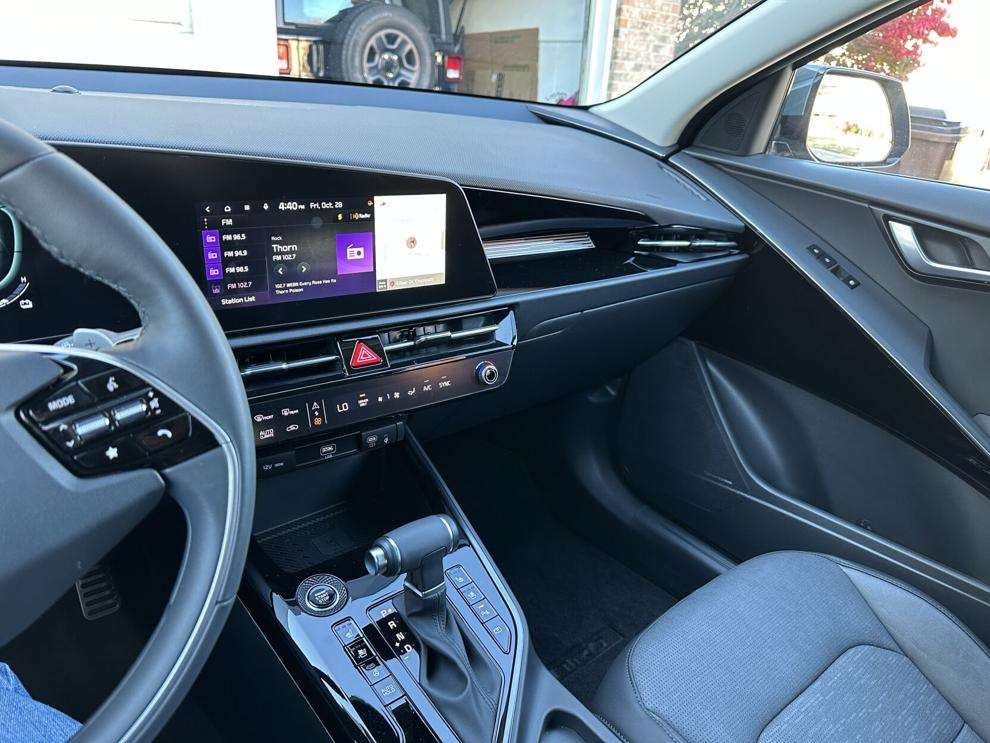 There is 22.8 cubic of cargo room in the back. For a smallish vehicle that is adequate. The second row seats do fold down expanding the cargo area to 63.7 cubic feet.
The five-passenger Niro offers ample legroom, even for taller passengers. Likewise the headroom is good, so rear passengers who might be over six-feet can still sit comfortably.
Kia's infotainment system is easy to use. And the way the 10.25-inch touchscreen is organized in the center is good. The combination of knobs and touch commands is intuitive and clean.
Aluminum pedals are aesthetically pleasing and available on the SX Touring package. It's not necessary, but it helps complete the look.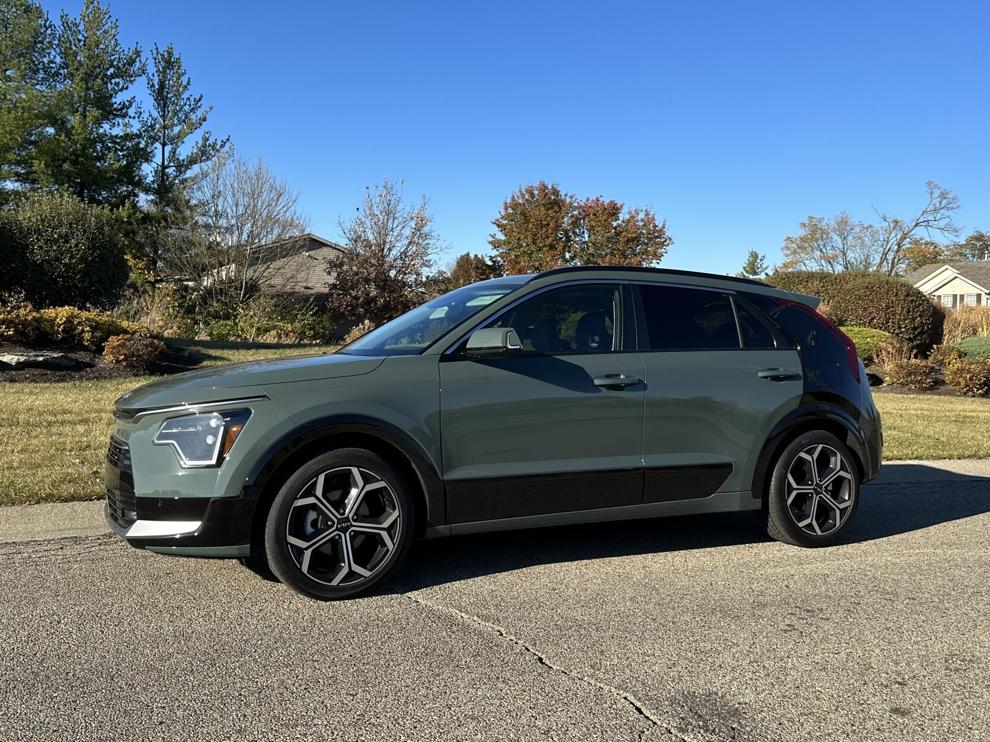 Starting price of the top tier SX Touring trim is $34,790. The base trim LX has a starting price under $27,000. With the aforementioned black C-pillar and carpeted floor mats, my tester had a final price tag of $36,435 which includes a $1,295 destination fee.
There are very few perfect vehicles out there, just as there are very few true lousy vehicles. So weighing the pros and cons of each is truly subjective. As for the redesigned 2023 Kia Niro, it has plenty of things working in its favor.