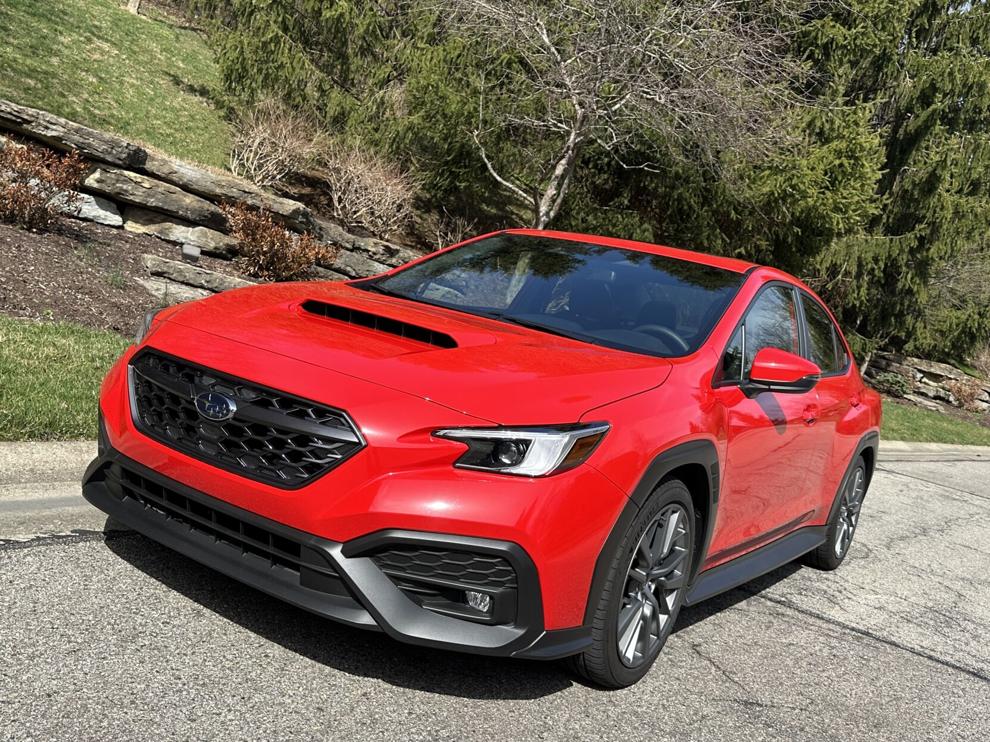 I've driven a lot of vehicles. But there are still some I've never gotten to drive. Well after this week, I can cross one more of the "never have I ever" off my list. This week's tester is the 2023 Subaru WRX. This enthusiast, youthful compact car has eluded me.
(Cue the backstory music) As someone with a disability, I am unable to clutch with my left foot. I know it's unheard of for someone who reviews cars for a living to be unable to drive a manual transmission vehicle, but that's what I have to deal with. And usually it doesn't cause too many problems. Except in this instance where the third-pedal oriented WRX kept me from enjoying . . . until now.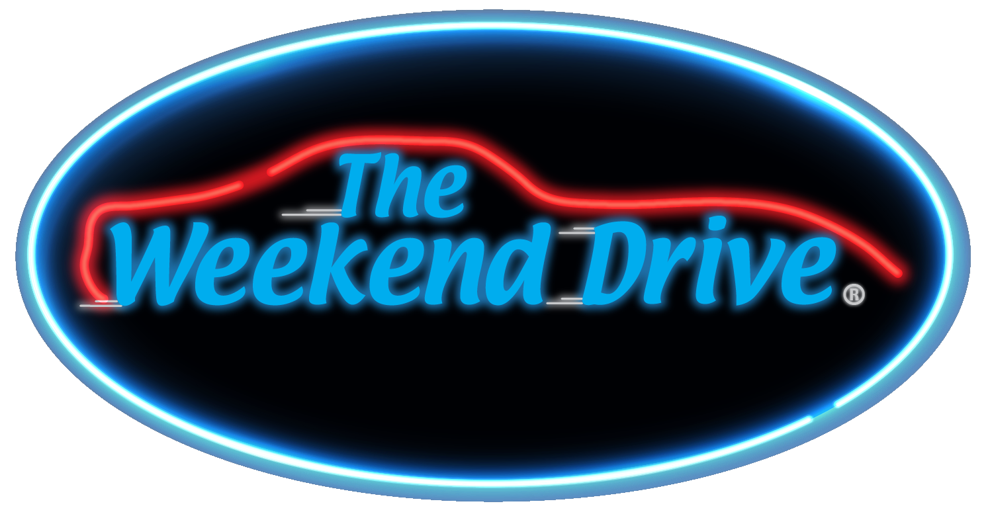 Starting in 2022, the WRX moved from being exclusively offered with a manual transmission to having an optional automatic transmission. And with that automatic option came my opportunity to finally get to drive the WRX. And that's a good thing because I've been a fan of the looks of this compact car for a while.
And for those who follow my Driver's Side column through the years you know I like small, squatty cars like this. Now without having to clutch, I can just enjoy the WRX and give a good Driver's Side review.
For the 2022 model year and carrying over to the '23 model year, the WRX has a new engine as part of the fifth-generation redesign of this rally-racing darling. As a nearly 50-year-old man, I felt youthful jubilance driving the WRX.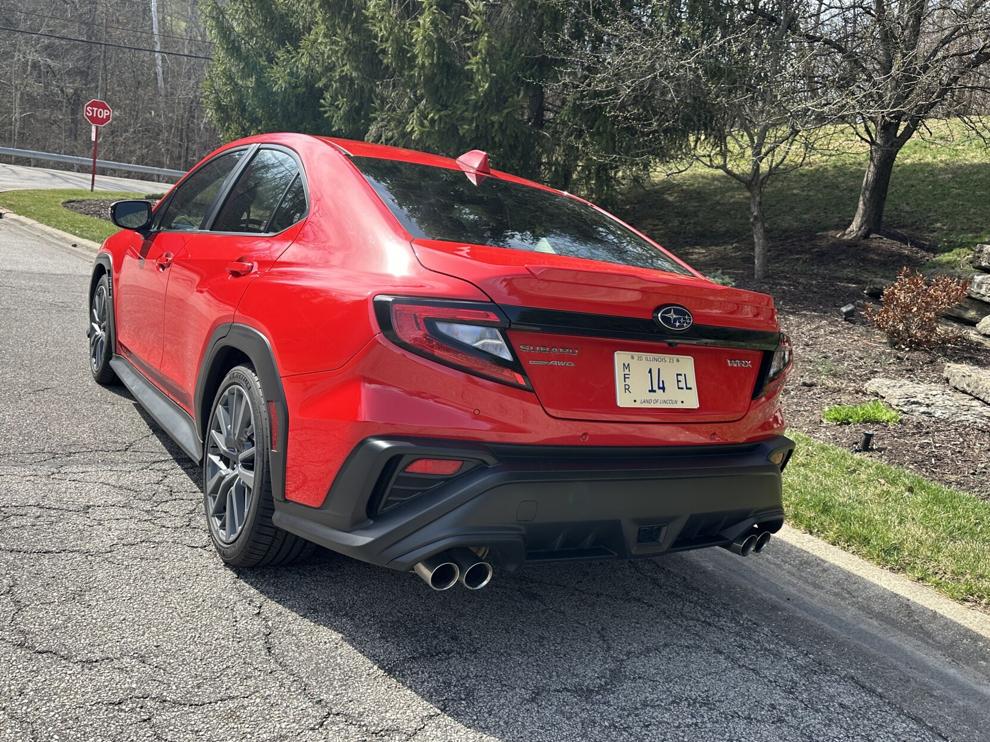 And what's not to enjoy with the 2.4-liter turbocharged Boxer engine. It delivers 271 horsepower and 258 pound-feet of torque. For a car that weighs 3,534 pounds with a lower center of gravity, you feel every single one of those 271 horses. Subaru is known for its symmetrical all-wheel drive platform, and this little WRX has that as well.
I personally liked the confidence it brought and felt it improved the overall handling. Generally I don't enjoy continuously variable transmissions (CVT) but in this case I found it acceptable and had well-mannered shifting.
My tester was the new GT Trim which features electronically-controlled dampers that can tailor the dynamic performance to the driver's preferences with comfort, normal and sport settings. More control for the driver is always a good thing. Additionally the Drive Model Select option allows for more than 400 different customizable driving options including steering feel, damper settings, SI-Drive settings and more. This feature was one of the most impressive, personalized ways to make this car exactly how you want it, when you want it.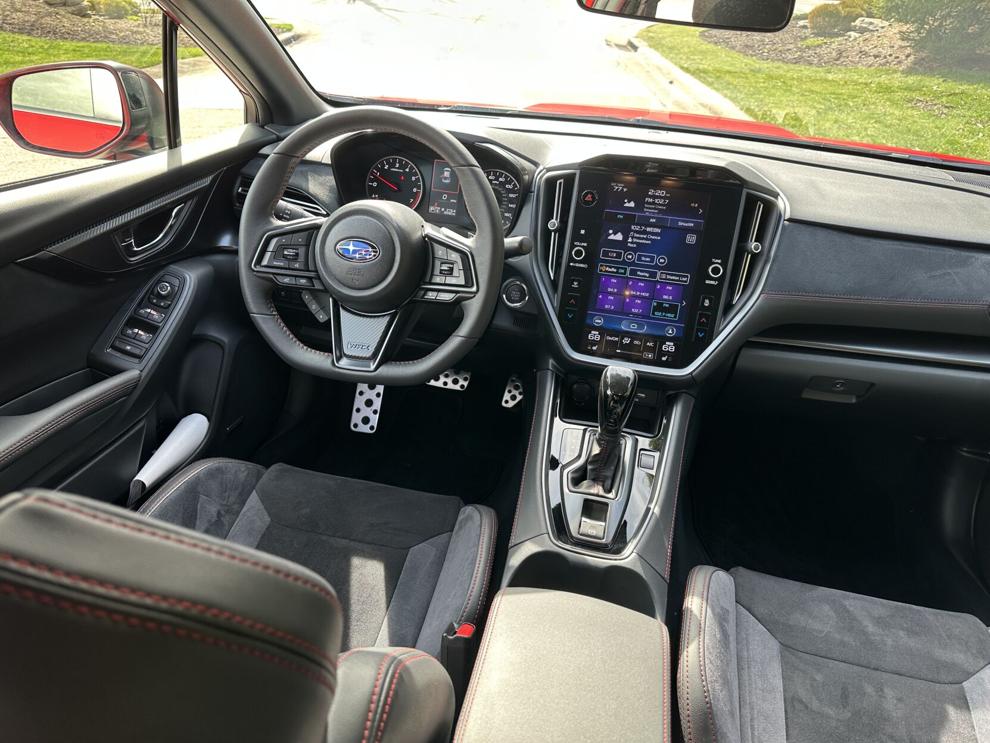 The looks of the WRX did not disappoint. It definitely has a youthful vibe and made me feel several years younger just driving it. Between the hood scoop vent, the honey-comb like grille and the front fascia, the WRX shows off its aggressive side right away. The back side loses some of that styling and becomes a little lackluster. Often Subaru enthusiasts will add a spoiler to their cars and this one certainly could've used one. Despite how much I liked the looks, it could've been better with a back end that had more personality.
Inside, the GT Trim is evident with Recaro racing-style seats that are exclusive to the GT. The Y-shaped design at the center of the seat backrest embodies a design concept in which the sides and shoulder blades of the occupant are securely supported to maintain proper driving posture. The seats are wrapped in black suede with contrasting red stitching and the Recaro logo embossed on the seatbacks. The driver's seat includes 8-way power adjustments.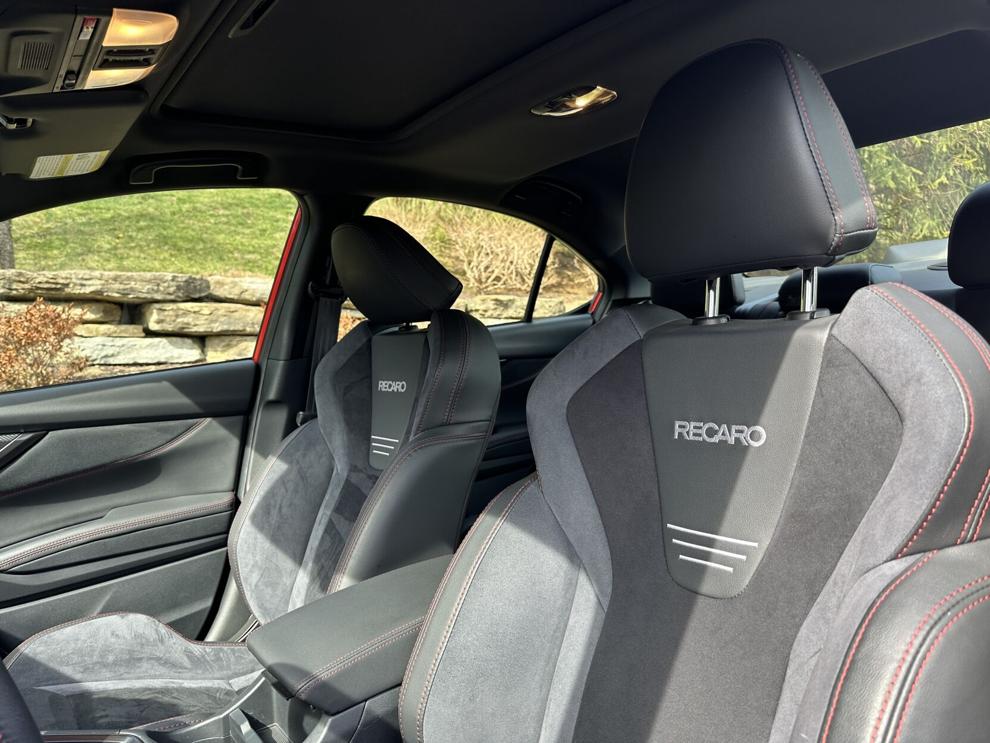 From a technology standpoint, the youthful side of the WRX is on display with some high-tech features including EyeSight Driver Assist Technology. This provides the driver with a wider range of operation enhanced with an expanded angle of view.
There's an 11.6-inch touchscreen with one of the most intuitive systems in the business. It has seamless integration with smartphones and a Harman Kardon 11-speaker sound system.
The EPA rating for the WRX is 19 mpg/city and 25 mpg/highway. You don't buy a fun car like a WRX to not hit the gas pedal and mash it to the floor.
My tester, which is the top-of-the-line trim has a base price of $41,895. Add another $995 for a destination fee and the final MSRP was $42,890.
I am certainly not the demographic for the Subaru WRX, but I am certainly glad I can now enjoy everything this fun, youthful, exhilarating car has to offer. This old guy appreciated the opportunity to put another car in the "I've driven it" side of the ledger.