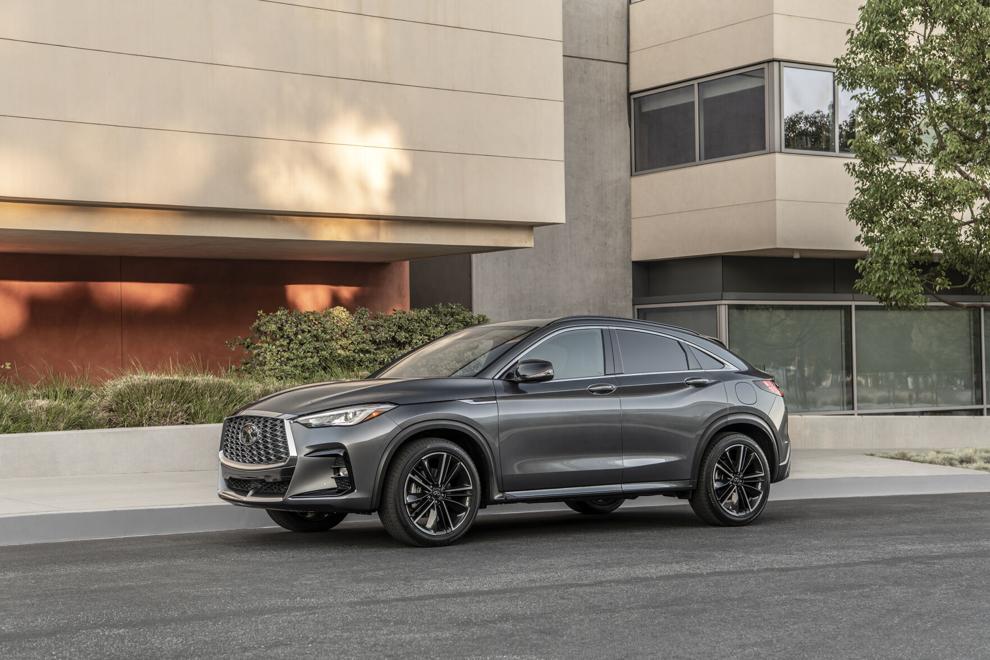 If you've read my reviews through the years, first I want to thank you. Second you might've picked up on many of my personal likes and dislikes. Two things I generally dislike are compact crossovers and continuously variable transmissions (CVTs). Well guess what this week's review is and guess what transmission it has?
Yep, the 2023 Infiniti QX55 is a compact crossover that has, among other things, a CVT. So should you prepare now for a total pan of this vehicle? Not so fast.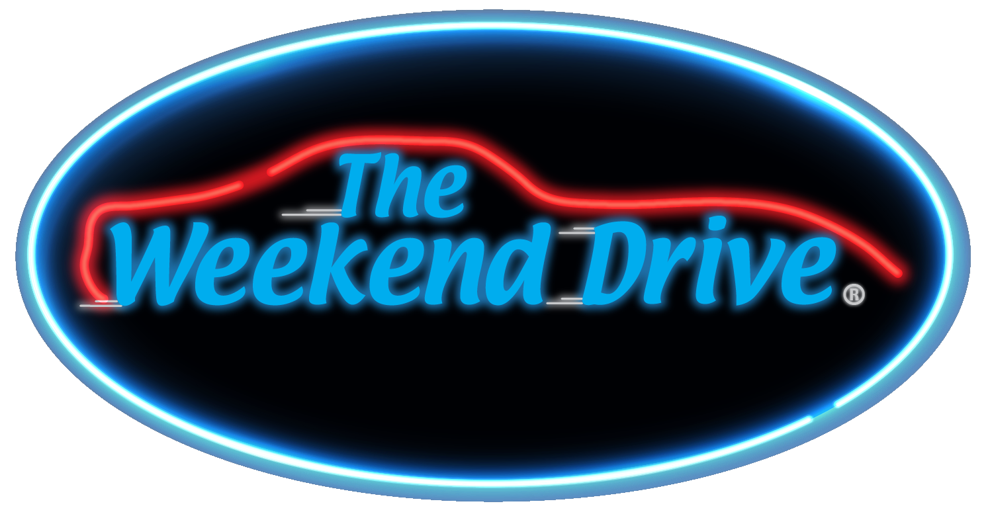 First, on looks, the QX55 is absolutely gorgeous. All the things I generally dislike about this segment, this luxury vehicle doesn't have. First, the QX55 is full of distinction and personality from a design standpoint. That alone differentiates itself in this gelatinous segment. The front end is highly stylized with a mesh-like grille, but underneath that is a chrome-traced feature that almost looks like a smile. Is it too cutesy? Not for me. And it seems to showcase just enough refinement to warrant the luxury branding.
Overall the aesthetics help set it apart from other Nissans on the road and as the luxury arm of that company it's important that Infiniti has its own persona. And the QX55 is a standout in that regard. The profile of this crossover is outstanding showcasing the well-balanced proportions of this vehicle offering a sleek roofline, a lanky body and a just-right height ground clearance. In a segment full of bubbly vehicles, this one is sexier and sleeker than most.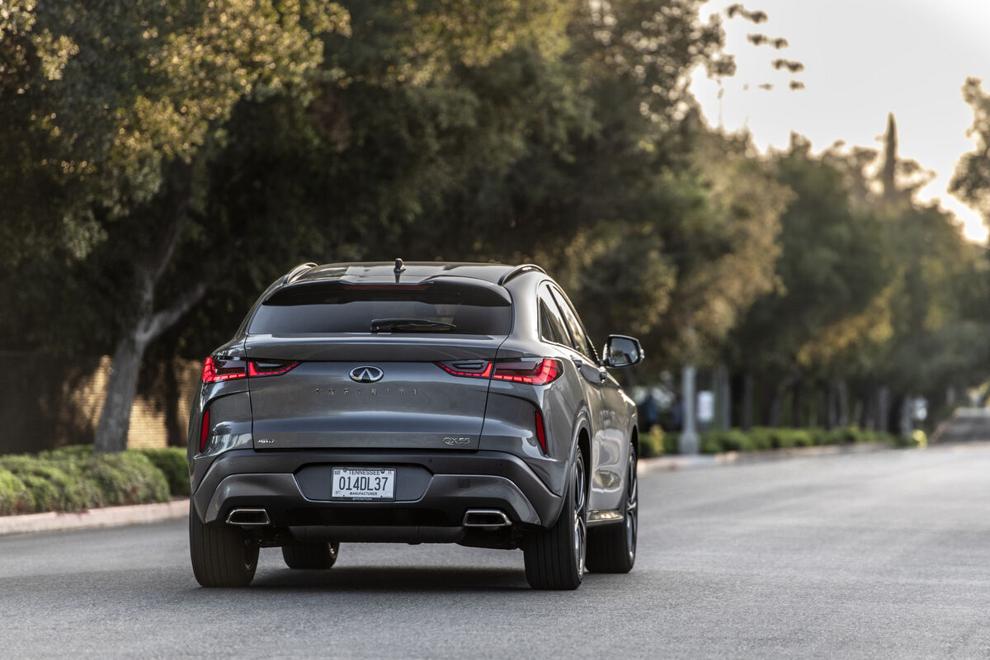 Now about that CVT. The QX55 has a turbocharged 2.0-liter four-cylinder engine. This is a common powertrain within this segment. Mating it to a CVT does help with the fuel economy but does also introduce some turbo lag thanks to the overall quirky nature of a CVT. So did the 268 horsepower performance change my tune on the CVT? No. But otherwise this crossover is well powered and has driving personality.
Additionally, for a luxury vehicle, there's far too much road and engine noise that invades the cabin. I do believe some of this to blame on the shifting habits of the CVT and how it interacts with the turbo.
As for the rest of the interior (noisy cabin aside), the QX55 has comfort and refinement. The five-passenger vehicle offers ample rear legroom, but thanks to that sleek roofline, headroom may be more cramped for taller passengers in the second row. Leather seats are standard and the front seats enjoy heated and cooled comfort.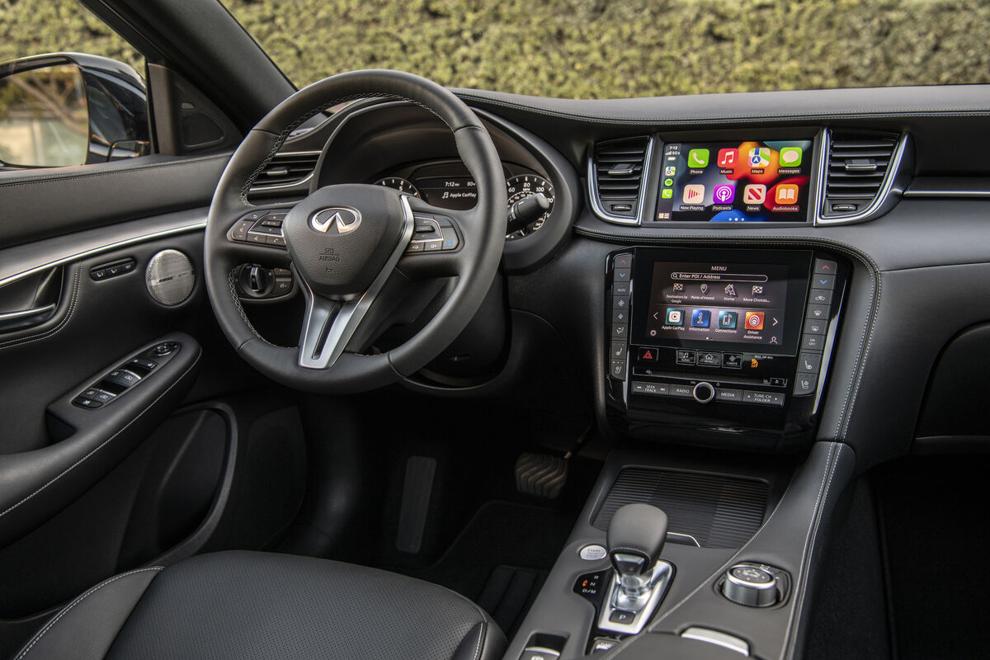 The dual-screen infotainment system looks attractive but also seems outdated when compared to other vehicles within this segment. However the 8-inch touchscreen is responsive and Infiniti's infotainment system is simple to use and integrates flawlessly with smartphones. There's wireless Apple CarPlay, but those on Android platforms need to wire their phone in to work. But hey that's what you get for having an Android (I kid).
For a smallish crossover, there's ample storage space with 26.9 cubic feet of room behind the rear seats. Fold those seats down and that area expands to 54.1 cubic feet. This is above average for this segment. My tester had a hands-free liftgate for even easier access to that cargo area.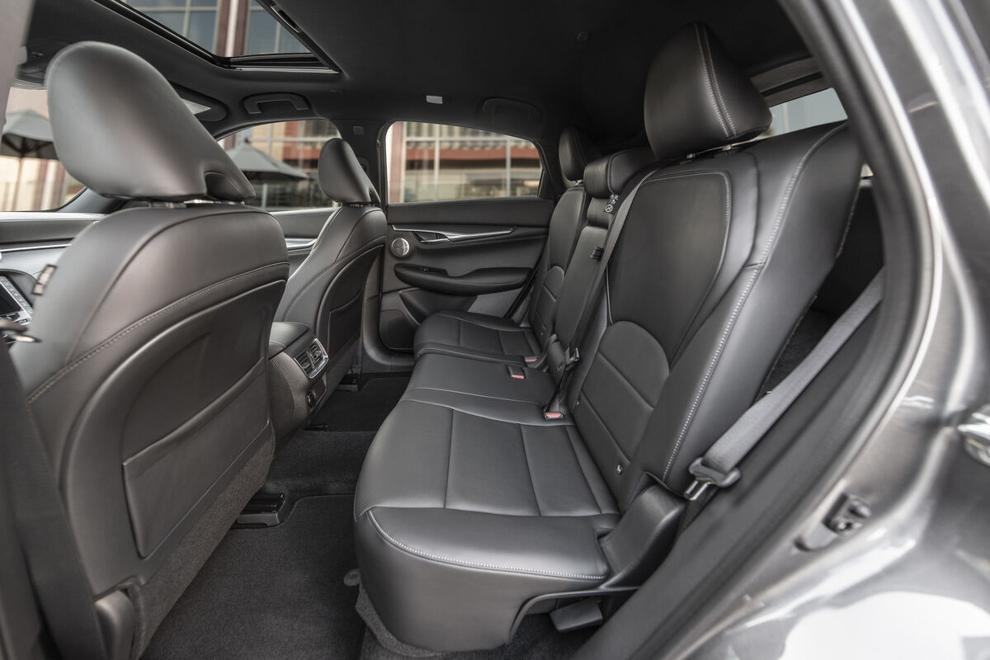 Infiniti keeps their trims simple with three offerings: Luxe, Essential and Sensory. My tester was the top-of-the-line Sensory trim with all-wheel drive (AWD). MSRP is $54,250. The base trim Luxe starts around $49,150.
Fuel economy for the AWD QX55 is 22 mpg/city and 28 mpg/highway. If theoretically the CVT gains one MPG that's still enough to overcome the annoyance and quirks it brings. But as tested, I averaged 25 mpg in a week's worth of heavy-footed driving.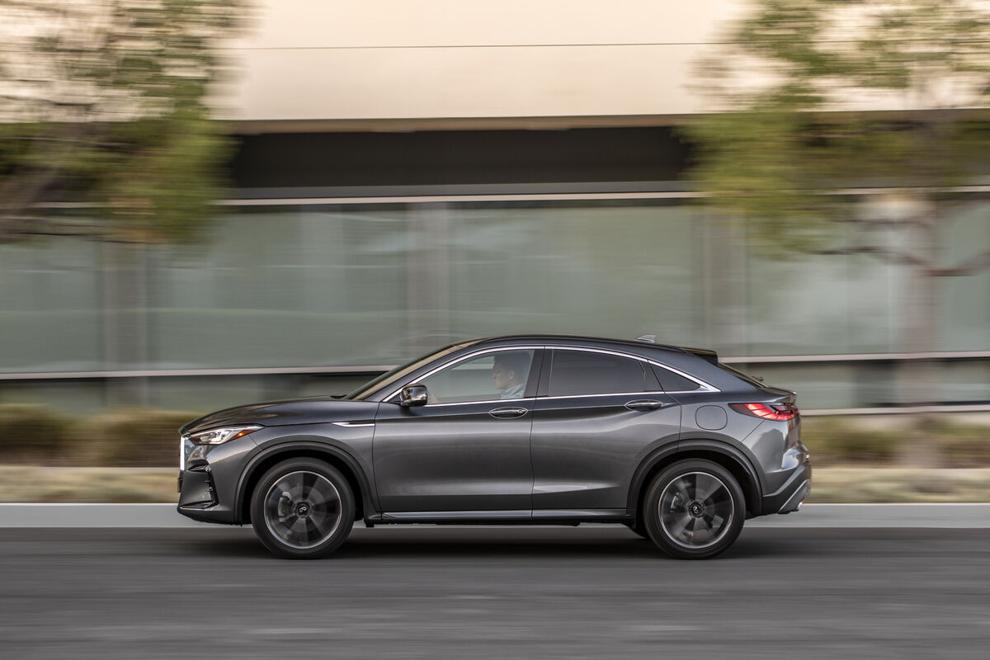 Note to all automotive manufacturers, not all compact crossovers have to look the same. See the 2023 Infiniti QX55 as a prime example of one that has standout looks, worth of its luxury branding. If only they also heeded our criticism of CVTs. One thing at a time, I suppose.